6 Wonderful Benefits of Goat Milk Soap for your Skin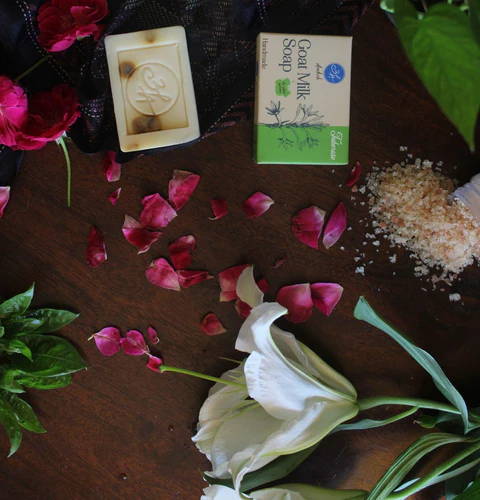 Are you also one of those who scroll through a lot of skin-care reels and videos on youtube, but when push comes to shove, you can barely spend time washing your face with a face-wash? Welcome to the club which cares about their skin but doesn't have enough time to spare on a 7-step-skin-care routine.
But we have a quick and trusted way out of it. Yes, we're talking about goat milk soap for your skin! Can't seem to believe that the answer to all your worries is a bar of soap? Allow us to explain that deeply- generations have used and loved goat milk for being a great companion to nourish our skin. This is due to the presence of lactic acid, which is a natural exfoliant which aids in cleansing, and softening of our skin.
Far- far away from the world of toxic, harmful and chemical loaded soaps is Aadvik's Goat Milk based soap which is skin-agnostic. That is, even for the most sensitive types of skin, it's an extremely gente pick as it has the closest match of pH levels as compared to our skin. On the other hand, according to the FDA, synthetic soaps are getting a lot of criticism for being a product of significant concern, which are generating a lot of users with frequently dry and irritable skin. So, how exactly is Aadvik's goat milk soap beating the above challenges like a pro, and giving us a healthy and brilliant option? Let's find out!
Goat Milk is not a product of 2021. It's been here for as long as you can remember, but due to the advancements and the ability to use goat milk in all forms and not just raw has been a revolution.
Several studies have shown how lotions which contain Vitamin A decreases wrinkles, manages acne and can also aid in giving relief from psoriasis and eczema. And to our surprise, goat milk contains high quantities of Vitamin A which is extremely beneficial to our skin. Going one step further to understand its composition, goat milk contains alpha-hydroxy acids which work together with the "natural glue" that holds our dead skin cells together. Thus it can support healthy skin function, stimulate skin regeneration and fight free radicals. Imagine your skin to be a layer of porous soil, with lots of invisible pores. Goat Milk is able to seep and penetrate the upper and dead layer of skin cells and is easily absorbed by our skin, and thus, completes its task of making sure the living tissues are well nourished! We've put together a list of 6 REASONS WHY you need to become a part of the healthy, conscious and the pro- goat milk soap tribe
A whole layer-better for your skin!
By now, you must've seen about 20 ads per day on Youtube or your TV breaks which have approximately talked about 10 different types of commercial soaps or skin-care products. The truth is, it's highly likely that all those products which market to be different are inherently the same: because they use the same harsh ingredients like detergents, or a slew of other chemicals including but not limited to alcoholds, parabens, colours and other synthetic preservatives. You understand that these products cause more harm than benefit to our skin, so a better alternative is needed to give a win to our skin! So, here's a bit of good news- the goat milk soap we've been talking about, does not leave our skin itchy or irritable, primarily because it contains soothing ingredients like glycerin, rice bran oil, lye, etc. When you combine the rejuvenating properties of goat milk with the skin-soothing properties of the latter, you'll get yourself a skin-loving super elixir.
The skin-cover no one talks about!!
Imagine being able to walk in rain with a raincoat, or an umbrella for your body, but not being able to do that for your skin? The process of covering your skin with a moisture barrier using any type of element in a skin-care product is what's commonly known as moisturizing. Goat Milk's fatty acids and proteins combined with other oils and glycerin produce a wonderful product to hydrate and moisturize our skin. This seals in the moisture, and leaves your skin feeling really smooth, supple and cared for!
It's high time we become conscious users and don't buy the most-wonderful looking product on the shelf- but learn to read labels, and educate ourselves about what it is that we're exposing our skin to. This is why- the limited components of the goat milk soap play an important role in supporting your skin, causing less irritation and are more hypoallergenic compared to other synthetically produced soaps with toxic or drying elements, which are extremely harsh for the skin!
The Curious Case of Goat Milk Soap?
A product like goat milk which has high quantities of antioxidants like Vitamin A, Vitamin C and Vitamin E can help protect our bodies from oxidative damage produced by free radicals. It also proves its mettle by carefully removing the layer of dead cells from our skin's topmost layer, uncovering the fresh and new layers beneath! Both of these qualities can create a minimizing effect on premature aging and slow down the appearance of fine lines, wrinkles, sun spot and other indicators of aging.
Yes, when it comes to dealing with acne and pimples, this goat milk soap is at par with any other antibacterial soap in your grocery stores or 24x7s or the front row supermarket shelves. You know why? That's because the antimicrobial characteristics of the goat-milk based proteins cease the acne-producing germs on your skin and can avoid the formation of more of those. Since it's rid of chemical additives, has fat molecules which provide an anti-inflammatory support in skin-care, the use of goat milk soap, thus on a regular basis might assist with skin irritation!
"It's 2021 and this has been here all along?
Why didn't anyone tell me?"
It's not us but it's the long list of benefits of a goat milk soap speaking to you, connecting with your chemical free approach to using products! Truly, who would have thought that a bar of goat milk soap would top the list of all-natural soaps with some incredible advantages? It's not only produced with 100% goat milk but with a few additional natural components like coconut oil, olive oil and palm oil to name a few, making it a great alternative to traditional synthetic soaps!
So, it's high time we make a conscious effort to give our bodies and ourselves a healthier and more natural way to feel nourished, and taken care of!