Camel milk Salted Chocolate Caramel Sauce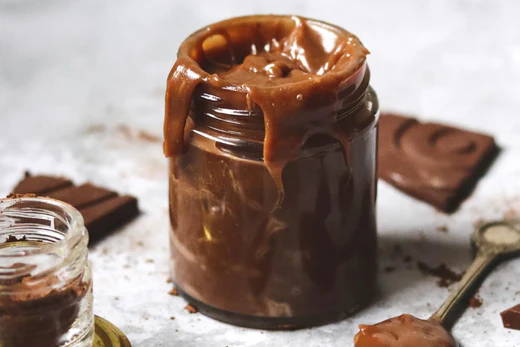 Recently a home cook with the most vibrant & tempting food feed on Instagram, Shreya Rao made Salted Chocolate Caramel Sauce using Aadvik's Chocolate flavored Camel milk powder. She shared with us her secret recipe for this delicacy & we can't wait to share it with you.
Ingredients:
Here's the detailed Recipe:
In a large Saucepan add 1 Cup Sugar, 1/2 cup Water and 1tsp Salt and keep stirring it on a medium flame.
Bring the mixture to boil and then switch off the flame and stir till it caramelizes.
Now add about 1/2 Cup of Aadvik foods Chocolate camel milk powder and keep stirring it.
Now keep the pan back at medium flame and stir completely till a smooth mixture is formed. (The consistency depends on your preference, add water more /less as required)
Now transfer the sauce in a Jar, once cooled down, use it whenever you want 😊
Order your box of Chocolate flavored Camel milk powder and get started on this chocolatey affair.
P.s.- It is tastier than it looks!